On this trip, we are proud to offer 100% home-made foods with home-made dehydrated meals and home-made snacks. This allows us to offer you only high quality and local food as well as to control our waste output. In fact, our trips are zero waste, we have banned plastic single-use bags and use only fabric bags to store our meals and snacks.
As we carry all our gear and food with us, you should expect between 6 and 8kg of common gear and food per person, to go in your pack with your personal gear and tent.
Terre Boréale respectfully acknowledges that this adventure takes place on the traditional territories of the Kluane First Nation and the White River First Nation.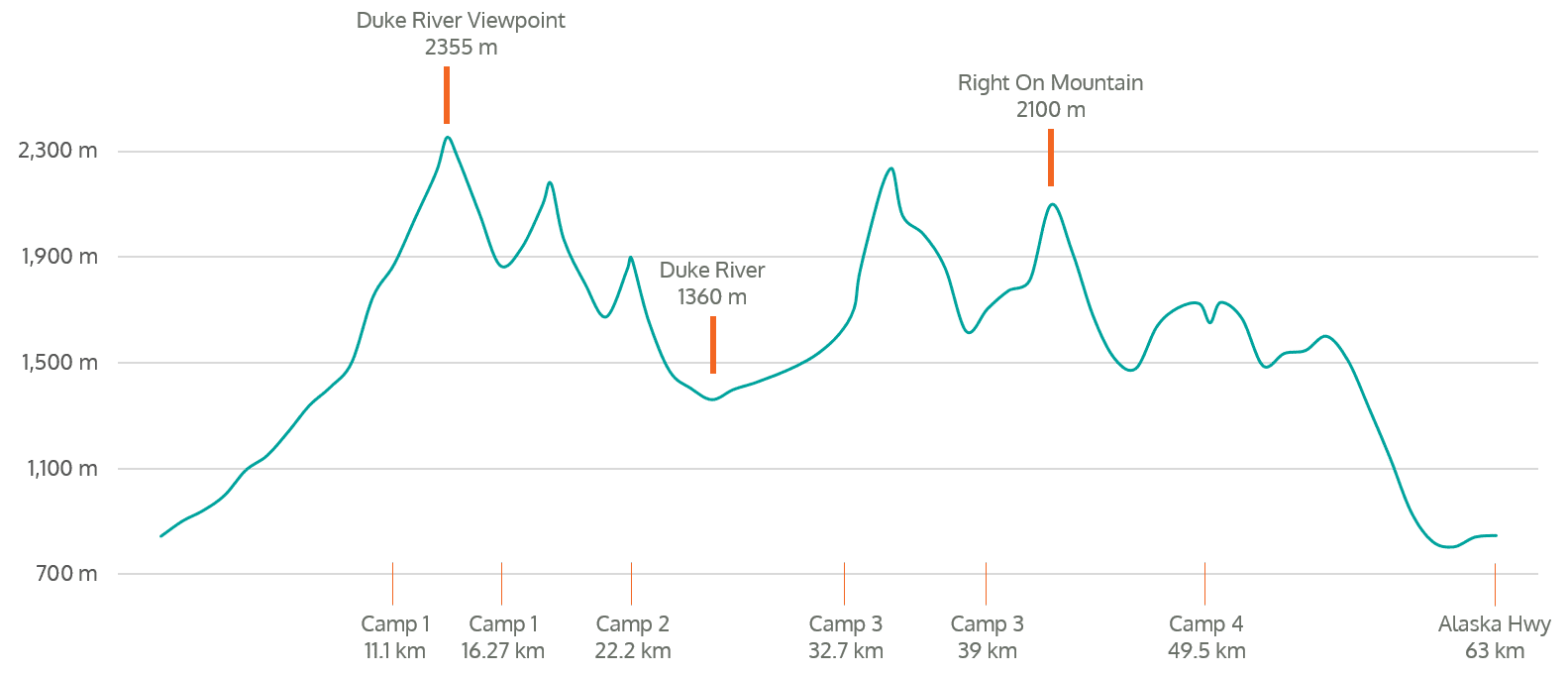 Meals as indicated in itinerary above
Accommodations as indicated in itinerary above, based on double occupancy (+ $250 for single occupancy)
Van transfers before and after the hike
Bilingual guide French/English
All gear for hiking in remote country (including tent and bear-spray, except sleeping bags and sleeping mats)
Satellite communication device for emergencies
Single occupancy supplement of $250
Airport transfers
Sleeping bags, sleeping mats, backpacks
Alcoholic beverages
Domestic & International flights
Gratuities
"*" indicates required fields
Amazing route through Kluane with well prepared guides and leave no trace principles.
"The trip of your dreams! My wife and myself were looking for a wild trip in Canada but we wish to avoid a trip without surprise and without a true adventure and awesome surprises. After some time looking for such a kind of trip, we found Terre Boréale… and it matched! This was exactly what we were looking for! We have chosen for a combined trip: 5 days conoë on the Yukon river followed by 10 days of trek. We have been fully satisfied and beyond. I won't add more comment on the quality of the food, I just confirm what is said by other people who travelled with Terre Boréale. It is very good. On the top of that, I would like to emphasize the professionalism of Terre Boréale team members. They will not just guide you or provide advices, they will take care of you all along the trip, from your arrival to your "difficult" back home. Thanks again for the unforgettable trip."
"Bocks Lake If you are seeking adventure and on this trip a physical and mental challenge,then you should give TB a try. Max had a very good understanding of the terrain and the environment through which we traveled and was unwaveringly enthusiastic. Supported by Milena and Boris we made our way through this incredible landscape dealing with each challenge as it presented itself. The food was lovely (I had dietary requirements which Max and Milena kindly took care of) and 3 hot meals a day was certainly welcome on this trip. Unfortunately I couldn't carry on to complete the hike due to having fallen and hurt my leg (and had to be helicoptered out). Max and Milena managed this situation very professionally, always kept me informed and Milena assisted with transport outside the park and booking extra accommodation etc that was required."