On this trip, we are proud to offer 100% home-made foods with home-made dehydrated meals and home-made snacks. This allows us to offer you only high quality and local food as well as to control our waste output. In fact, our trips are zero waste, we have banned plastic single-use bags and use only fabric bags to store our meals and snacks.
As we carry all our gear and food with us, you should expect between 7 and 9kg of common gear and food per person, to go in your pack with your personal gear and tent.
Terre Boréale respectfully acknowledges that this adventure takes place on the traditional territories of the Kluane First Nation and the White River First Nation.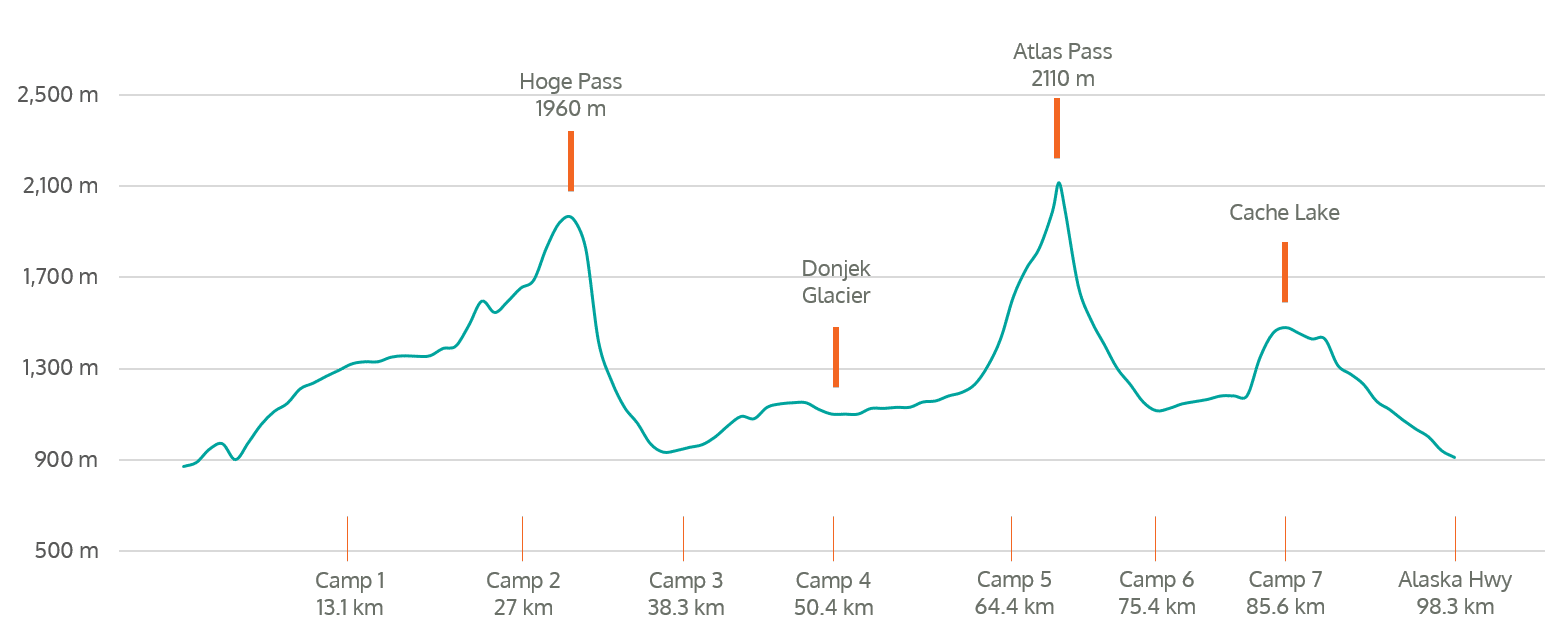 Meals as indicated in itinerary above
Accommodations as indicated in itinerary above, based on double occupancy (+ $250 for single occupancy)
Van transfers before and after the hike
Bilingual guide French/English
All gear for hiking in remote country (including tent and bear-spray, except sleeping bags and sleeping mats)
Satellite communication device for emergencies
Single occupancy supplement of $250
Airport transfers
Sleeping bags, sleeping mats, backpacks
Alcoholic beverages
Domestic & International flights
Gratuities
"*" indicates required fields
Wow. My first time to the Yukon did not disappoint. The nature and scenery were everything I could have hoped for. The Donjek Route was probably the most difficult thing I have ever done, so much more difficult that I could have anticipated! The soft off trail terrain was even more difficult for me than big inclines. Our guides Dan and Ed were fantastic and kept me motivated and feeling safe along the way. The food was also excellent and we had a great variety of backpacking meals and snacks. Having a hot lunch every day was often appreciated, especially on a rainy day. We didn't see as much wildlife as I had hoped, but seeing a few caribou pretty close was wonderful. Max was very helpful during the booking process and lead up to the trip, and was a great host!
"The Glacier is breathtaking. Being in a small group is a luxury. We travelled through a wide variety of landscapes, from toundra and rocky mountains, to canyons and a beautiful lake. Miléna is very kind and caring, and we did this trek with Max as our guide. Max is a very competent person. Kind, generous, caring, serious, knowledgeable and unforgettable. We crossed the path of seven grizzly bears, each situation being different, and he handled every one perfectly. He is also a great pedagogue and provided me training and a course on how to read a map and use a compass during a lot of his time. The food was delicious. Great meals that needed a long time and hard work to prepare. My favorite was Lasagna. Without Max we wouldn't have noticed anything but the fauna was really present. We were that lucky to see a wolf, royal eagles, mountain sheeps, a mountain goat, a fox, a porcupine and much more. Be well prepared with your gear and health because this adventure is challenging. The kind of trip you don't do just to add to your content of experiences. I went back home not with an identity of an adventurer or a warrior, popular on tv, but with the impression of being nothing, in the sense of simple, and not being separated from this nature."
"Me and my partner spent a total of 14 days with Max, first a relaxing 4 day canoe trip in Snafu lake and then the main highlight – a 10 day wilderness backpacking hike along the Donjek unmarked trail, in Kloane national park, which I'll focus on. The hike was amazing, easily one of the most beautiful and extraordinary we've ever done. Serene and pristine landscape, spectacular views filled with wild-life, away from it all (we saw a few people on the first day and that was pretty much it), truly a unique once in a lifetime kind of experience. The hike is considered very difficult by Parks Canada – it is an unmarked route, and there were certainly quite a few technical hiking stretches (scree climbing and descending, river crossing, bushwhacking, rock cliffs, etc). We are both in our late 30s, and experienced hikers, but whenever needed Max did a great job at instructing us, and teaching us some good hiking skills. We felt very safe all the time from that aspect as well as bear safety, navigation etc. He did a great job on the logistical side – it was all very organized, the meals (that are home made and dehydrated by Terre Boreale) were varied and good for a trip like that where all has to be lightweight and carried on our backs. We even had cookies/treat for lunch and desert every night 🙂 . Max is a great naturalist and very familiar and knowledgeable of the flora and fauna. He also has super-human eyesight and spots wildlife everywhere all the time so we didn't miss a thing. In the park we saw grizzlies, caribou, mountain sheep and goats, gophers, pikas, hares, many different raptors (golden eagles, bald eagles, goshawks, peregrines, northern harriers) and many other birds, we heard wolves, and we found lots of bones, tracks and scats he taught us to identify. In general he answered our many questions, we had fun and interesting conversations, and it was a very pleasurable experience from the social perspective (which isn't something to take for granted on such a long hike!). If you like wilderness hiking, and looking for something amazing and different, I would highly recommend this trip with Terre Boreale and Max."